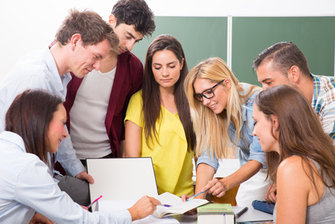 What can Protestant education do better?
At the centre of an enlightened Protestant educational tradition we find the individual with its respective development potential. According to this understanding, education does not only mean the acquisition of knowledge and formation of competences and it does not serve primarily the optimisation of occupational biographies. It rather means that the individual evolvement in our lives, together with others, must be the goal and yardstick in a society based on Christian understanding.
Dealing with our faith, with other religions or atheist positions is of paramount importance for the development of the individual and its positioning vis-a-vis others as well as dealing with crises of faith. The Evangelische Akademie zu Berlin promotes discussions on religiously influenced standards with the aim of strengthening the individual's ability to judge and tolerance in a pluralist world. The Academy sees education as a dynamic process, an intergenerational task and as a duty commissioned by society. In this way, it assumes responsibility as an educational institution promoting, at the same time, the dialogue on an up-to-date educational concept and an open education system.